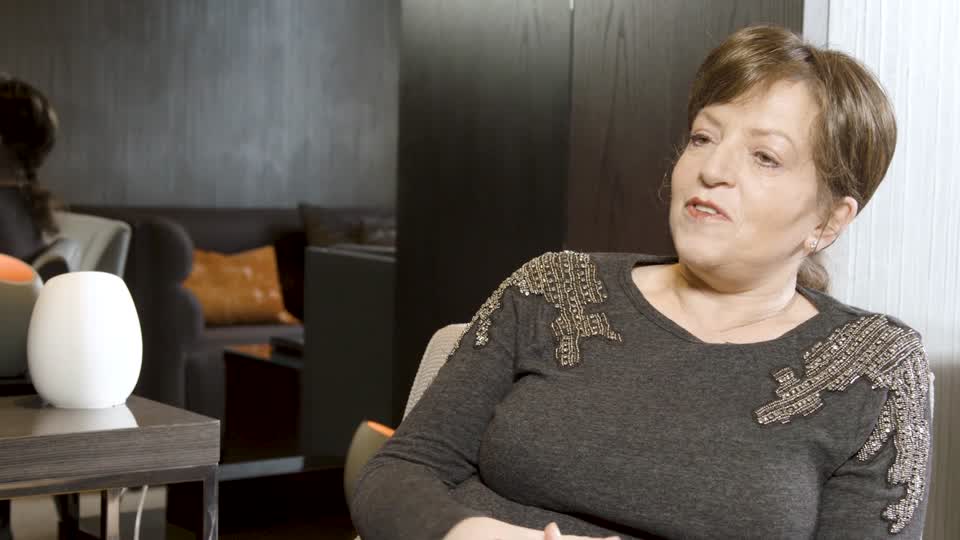 Angie D's Story
I have to show my before photo to people to convince them of the changes, when they see it they are really amazed at the difference.
I have always been fortunate to look younger than I am - people often guess that I am around a decade younger than my real age! Had someone said ten years ago that I would have cosmetic surgery I would have laughed at them, as I just wouldn't have thought I'd need it.
However, a little after I turned 60, I suddenly started to show my age, which was compounded by the fact that I decided to lose a bit more weight taking me from a size 12 down to 8/10. As a result of the weight loss, the skin around my neck sagged and looked really awful. On top of that I always had quite hooded eyes and the combination was making me look old and, even worse, constantly tired.
I had previously tried anti-wrinkle injections, but as the ageing process advanced I found that they didn't help much, so I knew more drastic action was needed. Initially I looked into having blepharoplasty hoping that I might look, at the very least, less tired. It was only after I started to look into options that I then considered other surgery. I knew that I would never feel happy in myself until I did something to address the effects of ageing.
Why did you choose Bella Vou?
I'm the sort of person that does a lot of research before making big decisions and cosmetic surgery is definitely a big decision, not just financially, but also because you are trusting someone to perform surgery on your face.
I went online and started to research surgeons in Kent and London. Luckily, I came across a piece on Bella Vou's Amir Nakhdjevani; the article covered his groundbreaking Concept™ Facelift, which is carried out under local anaesthetic. This was of great interest to me as one of the things I was wary of was general anaesthetic. After a lot more research, watching the video's online showing the procedure, and reading patient stories showing the results, I knew that this was something I was really interested in.
The other thing I really liked was that the results seemed natural. I had seen a lot of facelifts online that looked very unnatural and made people look stretched, like they'd had an accident in a wind tunnel! After my research and consultation I decided that I should have my face, neck and eyes done to provide a total facial rejuvenation.
Has it been worth it?
I can honestly say it was 100% worth it. The surgery can't be described as fun, as having to lie still for three and a half hours was challenging, although Amir and Sue chatted to me throughout which helped to put me at ease.
Afterwards I was up and on my feet straight away, which certainly wouldn't be possible after a general anaesthetic procedure. It felt strange, my skin felt very tight, but I could see the results immediately. My face was obviously swollen but I could see that contour of my neck in particular had really changed and all the sagging skin had gone.
Everything healed very nicely, the stitches for the neck and face lift are all hidden away behind my ears, so there will never be any evidence that I've had anything done. My eyes healed really quickly; the stitches were out in six days and a month later there's not much evidence of any surgery. I did have a few aches and pains for a couple of weeks, though nothing I couldn't cope with, and I was always able to manage the discomfort with some paracetamol or ibuprofen. The worst things were sleeping propped up for a few days and not exercising for a few weeks; however I did exactly "as the doctor ordered" and I've healed nicely as a result.
I wasn't bothered about people knowing, but no-one would guess I'd had work done if I hadn't told them as the results are so natural. I spent hours looking in the mirror as I couldn't believe the results. Right from the beginning, even when my eyes were a bit swollen, I was absolutely thrilled. I just wish I'd addressed my hooded eyes years ago! I took daily photographs for the first week or so and I would recommend that others to do so, as it's fascinating to see the changes.
People's reactions to the facelift have been hilarious. I told some people, afterwards they were all very curious and keen to see the results. People that have known me for 15-20 years didn't notice I'd had anything done, even a friend that knew I was having the surgery. They all thought there was something different, saying I looked 'well', 'fantastic', 'had I lost more weight?' (the fact there's no excess skin around my face and jaw has made my face look smaller which was a bonus), 'had I been on holiday' etc etc.
This is all testament to the skill of Amir, as even though I thought there was a big change others couldn't put their finger on what was different. One lady that didn't know me was completely shocked when I told her I was over 60 and said she would have guessed I was in my forties. I have to show my before photo to people to convince them of the changes, when they see it they are really amazed at the difference.
I now look in the mirror and feel better about myself. I take care of myself, regularly exercise and watch my weight, so having an old, tired-looking face was making me feel that all the effort was for nothing. I definitely feel better now. For me, having the surgery was a sign of my commitment to be a positive person who intends to live a long and happy life, being and looking the best I can. I did go through a moment of thinking "Am I being vain doing this?" but prior to the surgery I just didn't feel 'myself', which I definitely do now.
I don't regret doing this at all, I'm a great advocate of 'if there's something you don't like, change it', a mantra I always follow.
Interactive Before & After Photos
All images, videos and testimonials are based on the personal experiences of our patients and represent individual body shapes and results. Results may vary from person to person. All testimonials are provided voluntarily by our patients and clients and all photos and videos have been consented to and have not been altered in any way.