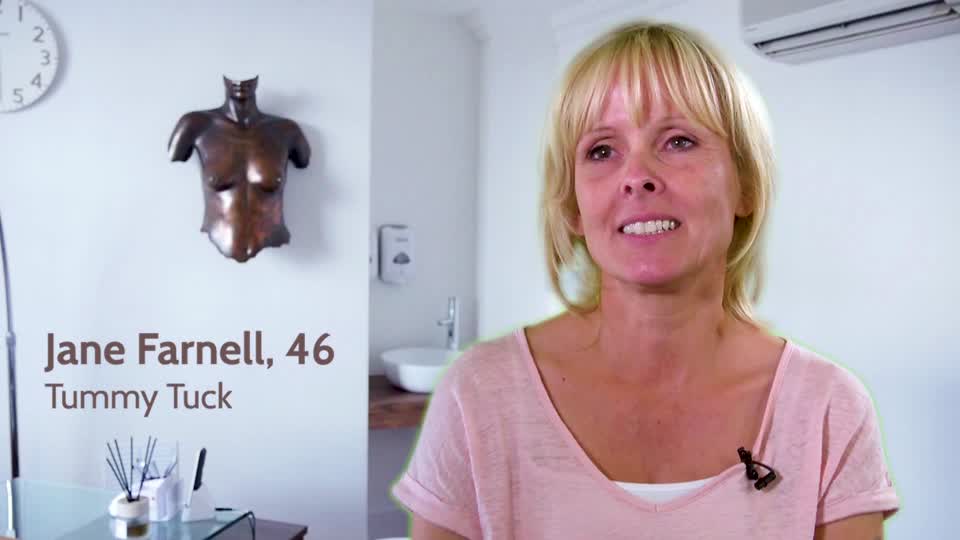 Jane's Story
Amir and the Bella Vou team were absolutely fantastic and they've understood where I'm coming from throughout the whole process. It's been lovely to have their support and guidance.
I chose to have a tummy tuck because I was extremely self conscious about the way my tummy looked. After three pregnancies, my muscles were slack and no amount of dieting or exercise would give me back my pre-baby belly. It affected the way I dressed, and the way I felt about myself. I didn't feel healthy or comfortable in my own skin. I wanted to be able to wake up in the morning and think "I like being me" and actually mean it.
I've been married to my husband for more than 20 years now, we've had our own child and we have recently adopted triplets, who are all autistic. I love all of my children but it can be quite isolating staying at home to look after them. I wanted to do something for me, which would boost my confidence and help me feel good about myself again.
Why did you choose Bella Vou?
Having done some research into tummy tuck procedures and different surgeries near to where I live, I decided to book a consultation appointment at Bella Vou because the online reviews were really positive and people spoke very highly of the work Amir undertakes.
I was a little nervous at my consultation because I didn't really know what to expect, but Amir is very knowledgeable and friendly, and instantly put my mind at ease. He explained the procedure and the results and recovery that I could expect, and was able to answer all my questions expertly.
It was good to be able to meet the other staff at the clinic as well, who were all lovely, and extremely cheerful and supportive.
What was your experience, in surgery?
On the morning of my surgery, I was very excited to see what the end result would be like! I went to Bella Vou and, although I was a little frightened, I was glad to see Amir, who ran me through the procedure and the friendly nurse who was on hand to reassure and support me.
Amir took the time to explain all the potential complications and we also discussed the scars that I'd have and my recovery. I was reassured that, although there would be scars, they'd be well hidden by my clothes so other people would not be able to see them, and that the scars would fade away over time.
He compared the recovery time with that of a Caesarean section which can take up to eight weeks to recover from, but the tummy tuck procedure takes up to half that time, as the abdominal muscles are not damaged by the surgery.
The surgery was carried out under general anaesthetic, and when I woke up I was so excited to see what my new body looked like!
Has it been worth it?
I didn't realise how young I'd look! The results are absolutely fantastic. My stomach is tight and flat again, the way it was before I had my babies. It looks like it did when I was 19.
I was a little sore to begin with but the recovery was just as quick as Amir had said it would be. Now six months on from the surgery, my stomach looks even flatter and more contoured. The scarring has reduced considerably, and Amir has assured me that in the next few months it will be flush with my skin.
It's been a massive change for me. The first time I went shopping I bought myself a bikini which was a big thing for me. It was nice to be able to buy the correct size clothing for my body, rather than buying bigger sizes for my belly. It's a fantastic feeling to be able to wear whatever I want, rather than having to put things back on the hanger because they don't suit me.
Although some people can be judgmental about cosmetic surgery, I'd encourage people to do what they think is best for themselves. It's not stupid to do something to improve your outlook on life, and if surgery can offer a safe and effective solution then that's better than suffering in silence.
Amir and the Bella Vou team were absolutely fantastic and they've understood where I'm coming from throughout the whole process. It's been lovely to have their support and guidance. They've made the procedure a lot easier than I'd imagined it would be. I felt safe from the beginning, and they did an exceptional job.
Interactive Before & After Photos
All images, videos and testimonials are based on the personal experiences of our patients and represent individual body shapes and results. Results may vary from person to person. All testimonials are provided voluntarily by our patients and clients and all photos and videos have been consented to and have not been altered in any way.