A revolutionary new surgical facelift, carried out completely under local anaesthetic and resulting in full recovery within just one week, has been launched at the Bella Vou Clinic, Tunbridge Wells, Kent.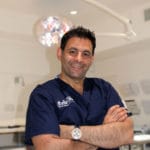 The pioneering Concept™ Facelift is the brainchild of consultant plastic surgeon, Mr Amir Nakhdjevani. Carried out completely under local anaesthetic, the unique two hour procedure has revolutionised facial surgery by using minimally invasive techniques that result in less scarring, bruising and swelling and potential for hairloss that can occur.
The Concept™ Facelift enables patients to be discharged on the same day as their surgery, without the need for lengthy hospital stays. The transformative procedure minimises bruising and swelling when compared to more invasive traditional facelift surgeries, and patients are able to return to work within a week, while the results last up to 10 years.
Procedures that target the face and neck represent a growing sector of the cosmetic surgery industry in the UK. More than 50,000 face and neck procedures are carried out in the UK every year, resulting in the loss of more than one million working days as a result.
Mr Amir Nakhdjevani, consultant plastic surgeon at the Bella Vou Clinic, said:
What makes the Concept™ Facelift so revolutionary is that it has the same results as traditional facelift methods, but patients can return to their daily lives within one week, rather than the usual six weeks. The procedure is carried out under local anaesthetic, so the patient remains conscious throughout, and it is less invasive than a traditional facelift, with no staples or drains, resulting in minimal scarring, bruising and swelling and a rapid recovery.
By contrast, traditional facelifts are carried out under general anaesthetic and often take up to six weeks to heal. Such procedures are more invasive than Mr Nakhdjevani's Concept™ method, generating significant bruising and swelling that forces patients into hospital stays and a month to 6 weeks off work to recuperate.
Mr Nakhdjevani continued:
As with a traditional facelift, the Concept™ Facelift is a fully SMAS (Superficial Musculo-Aponeurotic System) procedure, so it addresses the muscles underlying the skin, rather than just tightening the skin itself, allowing the face to be elevated, repositioned and lifted according to the needs of the individual. This reduces tension on the incisions which results in a natural, youthful look. Patients are able to return to work within one week and the effects last up to 10 years.
Mr Nakhdjevani has carried out over 400 Concept™ Facelift surgeries in the past year. He said: "Patients feel no pain after the local anaesthetic has been administered and they can chat with the surgical team during the procedure which helps them to relax and feel comfortable."
The purpose-built private Bella Vou Clinic in Royal Tunbridge Wells was launched in June 2015. The clinic incorporates two state-of-the-art operating theatres, a cosmetic dentist theatre and treatment rooms. All procedures are undertaken by British-trained Consultant plastic surgeons are members of the world's prestigious surgical boards, specialising in cosmetic surgery procedures for the hands, body, hair, face and smile.
Last Updated: April 12, 2016
Published On: April 12, 2016